Round Bath Overflow Filler/Exofill/Exafill + Click Waste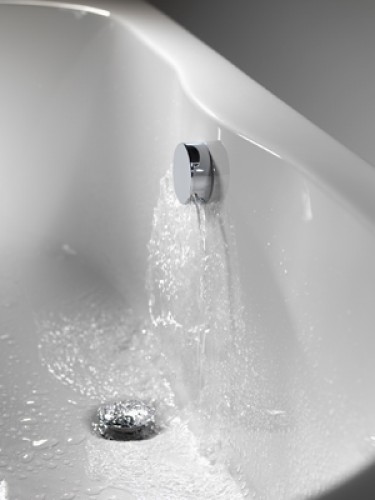 Bath Filler, high quality chrome plated pressflow click clak waste and overflow in one.
Sometimes also called exafill or extrafill in the trade.
This product is the ultra modern way to fill any bath and does away with a cumbersome and ugly bath spout or the need for traditonal taps. The bath can be filled using a shower mixing valve or alternatively fill the bath using deck or wall mounted on/off valves. - (See our shower/bath filler pack in Overflow Filler section for details)
Product includes
Solid Chrome Plated Brass Body/Filler
Luxury 72mm Diameter Domed Clicker/ Pressflow Plug
1.2m Overflow Pipe included
Fits baths upto 20mm thick
Comes with 10 Guarantee.
This product is designed to perfectly match our Basin Clicker Waste.
NB We also do
this product with a pop up waste and plug
An even sleeker version of this product with a slimmer brass body, also suitable for low pressure systems and/or thicker baths- The ultimate Overflow Filler
a shower/bath filler pack and/or deck valve
See the individual listings in the Overflow Filler section on our shop

Our Other