Rimini Range Quality Bath Overflow Filler/Exofill/Exafill with Pop Up Waste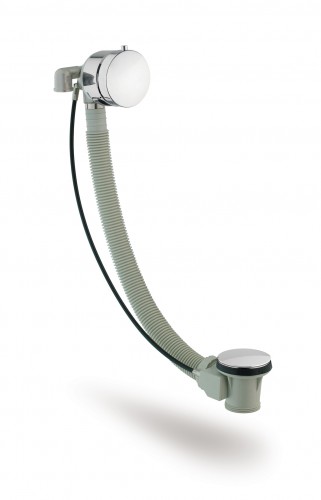 Bath Pop Up Waste and Overflow Filler.
Bath Filler, quality chrome plated pop up waste and overflow in one. Comes with chrome plated domed 72mm diameter plug to give a stylish finish to your bath.
Sometimes also called exafill or extrafill in the trade.
Part of our new Rimini range of bathroom products which offer quality products at particularly good value prices.
This Italian product is the ultra modern way to fill any bath and does away with a cumbersome and ugly bath spout or the need for traditonal taps. The bath can be filled using a shower mixing valve or alternatively fill the bath using deck or wall mounted on/off valves.
This product has chrome plated ABS body so it is designed to stay cool even when the water inside is hot.
Fits all standard UK Specification 1 1/2 inch bath plumbing.
This product can be used with all standard baths where the measurement between the centre waste and the overflow around the outside curve of the bath is less than 47cm. For larger baths and/or with centre wastes see our Luxury Extended Overflow Filler..
NB We also do this product with a clicker waste- see listing for details


Complete the look....
See our range of Deck Mounted Valves to compliement this product.
it is also designed to perfectly match our Basin Wastes.
Complete the look...