Bath and Basin Luxury Clicker Waste with Backnut Pack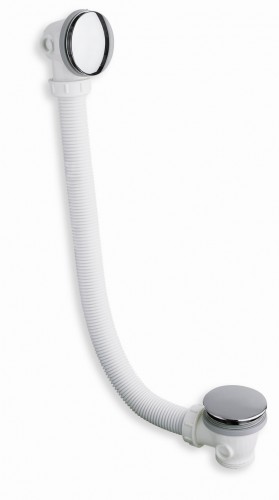 Bath Clicker Waste and Plug with overflow PLUS Basin Clicker Waste UnSlotted with Backnut

Both in high quality Chrome Plated Brass
Designed to give a modern contemporary feel to the bathroom.

Luxury Bath Clicker Waste has ultra thin overflow plate and simple press-to-operate luxury domed bath clicker plug 72mm diameter.

Luxury Basin Clicker Waste also has the matching luxury domed plug 64mm diameter. This version is unslotted for basins without an overflow and comes with a backnut and is designed for more tradtional style basins with a pedestal/or plastic bottle trap.

Both products are from an Italian manufacturer which can be seen to be of superior quality to other versions available

Includes 5 year Guarantee

other options..
Sotted basin waste with backnut available for basins with an overflow

Complete the look...
In addition this combination is also designed to perfectly match our basin bottle trap The 3 items can be sold as a combination with a discount.
Our Other Basin/bath Waste Matching Packs