Luxury Basin Clicker Waste and Oval Basin Bottle Trap Pack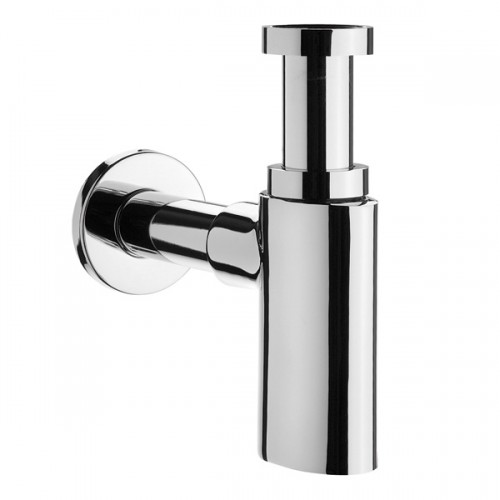 Luxury Pack Includes 1 Luxury Basin Clicker Waste Slotted and 1 Oval Modern Basin Bottle Trap
Gives a sleek look if your basin is on show, unlike other cheaper packs on sale. Read on to find out why....
Designed for the modern bathroom, this is the finishing touch that is needed if you have a wall hung basin or one that sits on a shelf or slab.
The luxury clicker basin waste is slotted to suit basins with an overflow and has a simple push click operation to open and close.
The very minimalist look is achieved with a chrome one piece domed plug, 64mm diameter, which covers the whole waste.
Our waste is made of high quality chrome on brass and is of higher quality than many cheaper versions on sale and also has several additional features including the domed plug which can be removed for easy cleaning.
Plus our waste has a unique special "collar" which when fitted to our modern bottle trap will give the appearance of a sleek one piece look without the ugly threads being visible which other products don't offer- very stylish
Under the basin the sleek chrome look continues as all you see are the smooth sides of the waste and the slim oval modern bottle trap.
The OVal bottle trap outlet pipe can be fitted between 60mm and 120mm below the waste to allow for flexibility of the position of the waste outlet in the wall.
It comes with a chrome wall pipe and flange which is 300mm long and can be easily cut to the length required.

Other styles bottle trap pack also available- it all depends on the look you are looking to create

Fits all standard UK Specification 1 1/4 inch basin plumbing.
Other options
Pack with unslotted waste also available
Plus packs with other styles of waste and bottle traps
Complete the look....
See a range of bath wastes to match this product.
Bath/basin clicker waste pack also on sale


Dimensions: Fits all standard UK Specification 1 1/4 inch basin plumbing. Bottle Trap adjustable height.
Complete the look...