Luxury Extended Basin Clicker Waste UnSlotted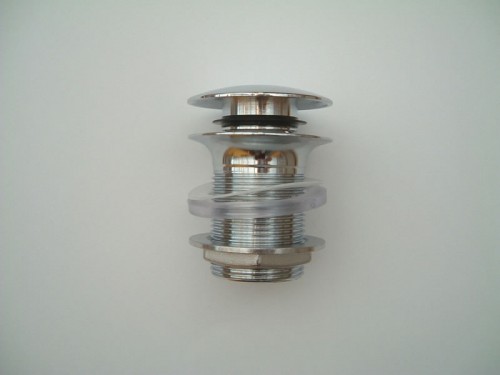 Luxury Extended Basin Click Waste UnSlotted in high quality chrome on brass
For basins without overflow.
Simple press-to-operate luxury basin clicker waste with Domed Plug 64mm diameter.
Will fit all UK Standard 1 1/4 Plumbing
This is an extended version where the thread length is 100mm(standard is 60mm) and is ideal for the modern trend where basins sit on top of worktops and so may need an extra length in order to connect to the bottle trap.
This version is of a much higher quality than cheaper alternatives and has additional features such as the domed plug which can be removed for easy cleaning
PLUS
Our waste has a unique special "collar" which when fitted to our MODERN BOTTLE TRAPS will give the appearance of a sleek one piece look without the threads being visible which other products don't completely offer- very stylish .
We offer both our modern bottle trap and clicker waste as a PACK which gives a discount on buying them seperately. See our listings for details
This product is also designed to perfectly match our bath clicker waste and overflow fillers and are also available as a pack

NB It is not designed to fit with plastic bottle traps. Please see our Clicker Waste with Backnut if using a plastic bottle trap or a pedestal.
Dimensions: 100mm thread. 64mm domed plug. Fits UK Standard Spec Plumbing
Complete the look...